Most Trusted Roof Painting Sydney Specialists – Make Your Roof Look Like Brand-New!
Protect it from the elements with our comprehensive roof painting solutions. At Clear Finish Painting and Decorating, we know the importance of adding value to your home. Even if you have a full exterior painting done, an old and discoloured roof will taint its beauty. We provide best Roof Painting Sydney with 100% Satisfaction Guarantee.
We understand that your roof is one of the most visible parts of your home. The thing is, time can take its toll on concrete tiled roofs. Hail, wind, storms, and the intense Australian sun can also have an impact on your roof causing it to fade quickly.
Through the years, you will see the roofs fade, become covered in mould and dirt from the trees and bushes around, and sometimes covered in saltwater. Cracked tiles can also weaken your roof because of the extreme temperatures. When this happens, the moisture can penetrate your home.
Clear Finish Painting and Decorating use Only Quality Roofing Products Because:
• It offers Superior Adhesion
• Prevent Mould and Mildew
• Excellent UV Protection
• Offers Reflective Properties for Cooling Savings
• Protects the Roof from Premature Degradation
• Minimises Heat Absorption
• Non-Toxic 
• It is Designed to give a Lasting Shine in the Harsh Australian Climate
Talk to our Roof Painting Experts in Sydney today about our Roof Painting Services and Solutions.
Hire Local and Best Roof Painters Sydney
Make your roof look brand-new while protecting it from harsh elements. With Clear Finish Painting and Decorating, you will get comprehensive roof painting solutions that you can't find anywhere else. Our roof painters Sydney can work methodically and efficiently while applying an even layer of paint, in the colour of your choice. It will improve the appearance of your house roof and in effect, you're home. How's that for curb appeal?
At Clear Finish Painting and Decorating, our experts are aware of the negative impact of a tired-looking and faded roof on the appearance and condition of your home. We have covered varied detailed and comprehensive roof paintings in Sydney in varying sizes. And from these experiences, you can trust us to add value and character to your roof.
Some of our Roof Painting Jobs Include:
• Tile Roofs
• Aluminium Roofs
• Steel Roofs
• Colourbond Roofs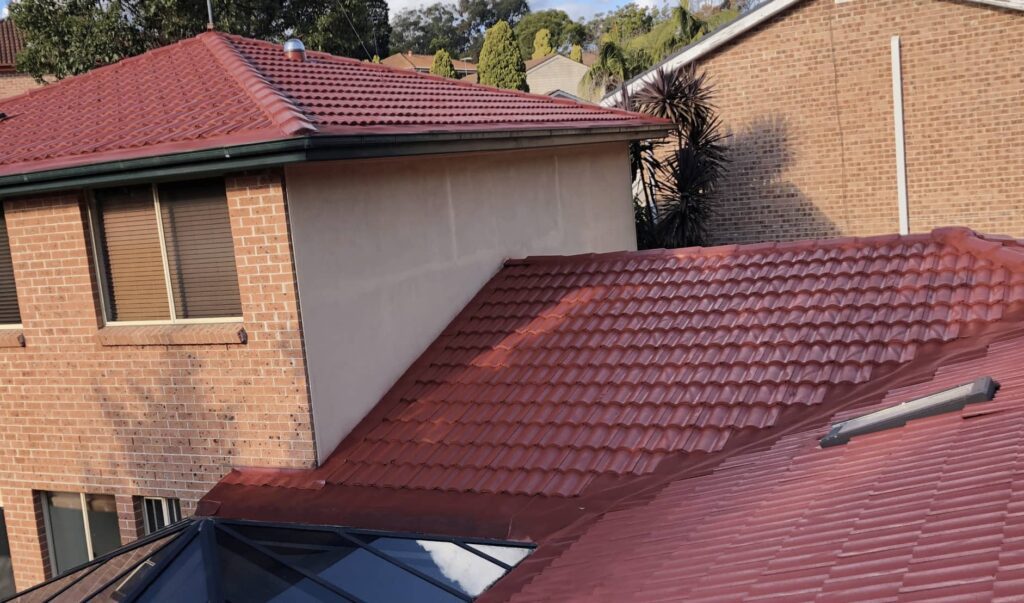 With the weather-resistant paints, we cover your roof, you will get a spotless and faultless finish. We ensure that you have the colour that suits your home that will make your roof the envy of your neighbour. Call Clear Finish Painting and Decorating to restore your home's roof to its former glory!
Why Use Professional Painting Services?
Clear Finish Painting and Decorating have performed countless roof painting services in different Sydney properties. Our years of experience in the field ensure that we know your roof, what are the most suitable products and techniques to use to make it look good.
We use the latest materials and technology to ensure that your roof receives topnotch service. Our roof painting experts know the pitfalls of such undertaking and therefore, let us handle the job instead of you. We also offer free consultation and advice. Rest assured that we will carry out the work efficiently and professionally.
Benefits of Roof Painting Sydney
If your roof looks dull, tired, and unmaintained. It's time to call the roof painting experts. It is a quick fix to restore its appearance. However, it is not all about aesthetics. Roof painting delivers many benefits and these are:
Improve Appearance:
Roof painting is the quickest and most effective way to improve the aesthetic and appearance of your roof and home. It ensures that the roof always looks fresh and new.
Improve your Roof Health:
Roof painting can improve the condition and health of your roof. Painting the roof and restoring the look and appearance will guarantee extended life.
Mould and Mildew Protection:
Improving roof painting can help prevent mould and mildew. Long-standing and outdated roofs are susceptible to mould and dampness from the weather conditions. It can create an unattractive look for your home. You can keep your roof protected with the right painting.
Improve Life:
Sydney Roof Painting can improve the lifespan of your roof. As a general rule, newly painted roofs add 15 more years to their life. We highly recommend homeowners get their roofs painted and maintained.